RESERVATION FORM: 1) Choose destination, date and time. 2) Select vehicle. 3) Fill address and passengers information.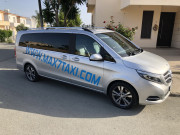 Cheap Taxi transfers from and to Airport Larnaca or Paphos in Cyprus
MAX7taxi provides private drivers, minibus transfers and taxi services from all the airports in CYPRUS with accessible to customers low prices and hidden fees. We have rich experience in providing first class service for transfer of passengers from the airport, you well be welcomed by licensed drivers. Plannig your trip from airport and to airport it would be good that you can rely on fast, comfortable and safe transportation to your final destination. This will be guaranteed by our transfer services from an airport or a private car transfers with a driver.
When you arrive at an airport in CYPRUS, you can rely on that you will be greeted at the airport terminal from a driver speaking Russian, english and Greek, by which your transfer to the desired destination will be pleasant and secure. Our drivers greet you with comfortable, luxury and reliable cars. In case there is an order for a transfer from the airport you will be greeted by a driver holding a sign. You will get proper services without on our part.
Transfers north CYPRUS
We also perform transfers from the airports to destinations outside the borders of Republic of CYPRUS , the price including all costs for customs services, roads and insurance expenditures. Transfers from airports of the countries bordering CYPRUS are also possible.
HOW MUCH DOES A TAXI COST IN CYPRUS?
TAXI PRICES

DAY and NIGHT

DURATION

FROM LCA - TO NICOSIA

45

€

50 MIN

FROM LCA - TO LIMASSOL

49

€

50 MIN

FROM LCA - TO LARNACA

20€

10 MIN

FROM LCA - TO PROTARAS

49

€

50 MIN

FROM LCA - TO PAPHOS

90

€

90 MIN

FROM LCA - TO AYIA NAPA

44

€

4

0 MIN
HOW MUCH DOES A TAXI COST TO HOTEL IN CYPRUS?
| | | |
| --- | --- | --- |
| Taxi price from Larnaca Airport to hotels in Cyprus | Day/night | time |
| ADAMS | 44€ | 50min |
| FOUR SEASONS | 49€ | 50min |
| CIAO STELIO | 20€ | 10min |
| CAVO MARIS | 49€ | 50min |
| ELYSIUM | 95€ | 90min |
| NISSIBLU BEACH RESORT | 44€ | 40min |
| SUN HALL | 20€ | 10min |
| GOLDEN BAY | 22€ | 25min |
| NISSI BEACH | 44€ | 40min |
| LIMANAKI | 44€ | 40min |
| LORDOS | 22€ | 25min |
| HENIPA | 22€ | 25min |
| ELYSO | 20€ | 15min |
| RADISON | 20€ | 15min |
| LA VERANDA DE LARNACA | 20€ | 10min |
| AMARA | 49€ | 45min |
| GRAND RESORT | 49€ | 45min |
| MEDITTERANIAN | 49€ | 45min |
| CROWNE PLAZA | 49€ | 45min |
| HARMONY BAY | 49€ | 45min |
| PARKLANE | 49€ | 45min |
| KAPETANIOS | 49€ | 50min |
| POSEIDONIA | 49€ | 50min |
| DARLEX APRT. | 49€ | 50min |
| ALASIA | 49€ | 60min |
| ALINEA | 49€ | 60min |
| LE VILLAGE | 49€ | 55min |
| PEFKOS | 49€ | 70min |
| MARIANNA | 49€ | 55min |
| PIER BEACH | 49€ | 55min |
| AJAX | 49€ | 55min |
| ANEMOS | 95€ | 90min |
| GRECIAN BAY | 44€ | 40min |
| GRECIAN PARK | 49€ | 50min |
| ATLANTICA SUNGARDENS | 44€ | 45min |
| ATLANTICA AENEAS | 44€ | 40min |
| SO WHITE | 44€ | 35min |
| CHRISTOPHINIA | 44€ | 40min |
| EVABELLE | 44€ | 40min |
| EURONAPA | 44€ | 40min |
| NESTOR | 44€ | 40min |
| ANESIS | 44€ | 40min |
| FLORIDA | 44€ | 40min |
| RIVER ROCK | 44€ | 40min |
| THE IVY MARE | 95€ | 90min |
| CONSTANTINOU BROS ATHENA BEACH | 95€ | 90min |
| LEONARDO PLAZA CYPRIA MARIS | 95€ | 90min |
| CAPITAL COAST RESORT | 95€ | 90min |
| AKTEON | 95€ | 90min |
| ELYSIA PARK | 95€ | 90min |
| AMPHORA | 95€ | 90min |
| ANEMI | 95€ | 90min |
| QUEENS BAY | 100€ | 95min |
| AQUAMARE BEACH | 95€ | 90min |
| ANNABELLE | 95€ | 90min |
| ANASSA | 120€ | 120min |
| HELIOS BAY | 95€ | 90min |
| AGAPINOR | 95€ | 90min |
| LOUIS IMPERIAL BEACH | 95€ | 90min |
| LOUIS LEDRA BEACH | 95€ | 90min |
| APHRODITE HILLS | 85€ | 80min |
| PIONEER | 95€ | 85min |
| SWEET MEMORIES | 49€ | 50min |
| CAPO BAY | 49€ | 50min |