RESERVATION FORM: 1) Choose destination, date and time. 2) Select vehicle. 3) Fill address and passengers information.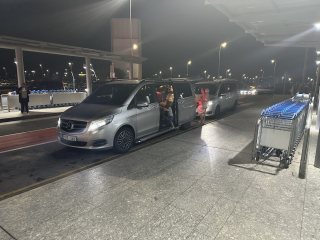 Taxi Transfer from Ercan (ECN) Airport
Ercan Airport Transfer
Ercan International Airport (Turkish: Ercan Uluslararası Havalimanı pronounced [æɾˈdʒan uɫusɫaɾaɾaˈsɯ havalimaˈnɯ] Greek: Αεροδρόμιο Τύμπου) (IATA: ECN, ICAO: LCEN) is the primary civilian airport of the unrecognised de facto state of Northern Cyprus. It is located about 13 kilometres (8.1 mi) east of Nicosia, near the village of Tymbou.Flights to the airport are banned internationally due to the ongoing Cyprus dispute. Non-stop flights only take place from Turkey, and all planes that fly to Northern Cyprus from other countries have to stop over in Turkey. Because of these difficulties and inconveniences, the majority of Turkish Cypriots with Republic of Cyprus passports prefer to use Larnaca International Airport, which is located in the territory under the control of the internationally recognised government of the Republic of Cyprus; this option is not available, however, to Turkish citizens. However, several Turkish airlines operate direct flights from Ercan to Europe with intermediate stops in Turkey via some of the destinations listed below.The Government of the Republic of Cyprus considers the use of Ercan Airport to exit or enter the island illegal.
Source: Wikipedia
Taxi ,Transfer Price List from Ercan Airport (ECN)
| from | to | Taxi | Minivan 6 | 13 seats |
| --- | --- | --- | --- | --- |
| Ercan airport (ECN) | Ayia Napa | 85.00 € | 110.00 € | 140.00 € |
| Ercan airport (ECN) | Larnaca bay, Dhekelia | 90.00 € | 105.00 € | 155.00 € |
| Ercan airport (ECN) | Larnaca town | 90.00 € | 115.00 € | 155.00 € |
| Ercan airport (ECN) | Larnaca airport | 95.00 € | 120.00 € | 170.00 € |
| Ercan airport (ECN) | Limassol | 138.00 € | 150.00 € | 240.00 € |
| Ercan airport (ECN) | Nicosia | 55.00 € | 100.00 € | 130.00 € |
| Ercan airport (ECN) | Paphos town | 195.00 € | 240.00 € | 290.00 € |
| Ercan airport (ECN) | Paphos airport | 195.00 € | 225.00 € | 290.00 € |
| Ercan airport (ECN) | Polis , Latchi | 250.00 € | 270.00 € | 345.00 € |
| Ercan airport (ECN) | Protaras | 85.00 € | 110.00 € | 140.00 € |
| Ercan airport (ECN) | Famagusta | 85.00 € | 110.00 € | 140.00 € |
| Ercan airport (ECN) | Tala | 235.00 € | 265.00 € | 320.00 € |
| Ercan airport (ECN) | Lefkara | 120.00 € | 145.00 € | 195.00 € |
| Ercan airport (ECN) | Ayia Thekla | 85.00 € | 110.00 € | 140.00 € |
| Ercan airport (ECN) | Aldiana-Robinson club | 110.00 € | 145.00 € | 205.00 € |
| Ercan airport (ECN) | Bafra | 100.00 € | 135.00 € | 175.00 € |
| Ercan airport (ECN) | Kyrenia | 55.00 € | 85.00 € | 105.00 € |
| Ercan airport (ECN) | Kapparis | 85.00 € | 110.00 € | 140.00 € |
| Ercan airport (ECN) | Coral bay | 240.00 € | 265.00 € | 320.00 € |
| Ercan airport (ECN) | Lofou | 165.00 € | 195.00 € | 225.00 € |
| Ercan airport (ECN) | Paralimni | 85.00 € | 110.00 € | 140.00 € |
| Ercan airport (ECN) | Pernera | 85.00 € | 110.00 € | 140.00 € |
| Ercan airport (ECN) | Pissouri | 190.00 € | 225.00 € | 290.00 € |
| Ercan airport (ECN) | Troodos | 205.00 € | 225.00 € | 285.00 € |
| Ercan airport (ECN) | Chloraka | 225.00 € | 245.00 € | 325.00 € |
| Ercan airport (ECN) | Peyia | 280.00 € | 310.00 € | 380.00 € |
| Ercan airport (ECN) | Oroklini | 80.00 € | 105.00 € | 155.00 € |
| Ercan airport (ECN) | Mazotos | 110.00 € | 130.00 € | 185.00 € |