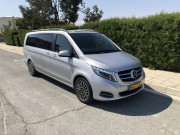 Minivan transfer from Larnaca Airport to Paphos
Transfer includes meeting at Larnaca Airport and transport up to 6 passengers. Prices include free child seats and water for all passengers, all airport taxes and travel related to the transfer. Our company can help you 24/7 allways with Airport transfer from/to Paphos. Transfer time Larnaca Airport-Paphos is arround 1hour and 25 minutes with distance approximately 135 km. Taxi vehicle is equipped with boothled water for all passengers and strong WI-FI for all customers. Drivers speak your language well. Cars is new and big, with space for many suitcasses. Minivan Larnaca Airport Transfer from/to Paphos will cost 119.27€ (one way). On the way back we offer all trips with discount 10%.
How much is a transfer from Larnaca Airport to Paphos?
| | | |
| --- | --- | --- |
| CONSTANTINOU BROS ATHENA BEACH, Paphos | 119.27€ | 90min |
| LEONARDO PLAZA CYPRIA MARIS, Paphos | 119.27€ | 90min |
| CAPITAL COAST RESORT, Paphos | 119.27€ | 90min |
| AKTEON, Paphos | 119.27€ | 90min |
| ELYSIA PARK, Paphos | 119.27€ | 90min |
| AMPHORA, Paphos | 119.27€ | 90min |
| ANEMI, Paphos | 119.27€ | 90min |
| QUEENS BAY, Coral bay | 119.27€ | 95min |
| AQUAMARE BEACH, Paphos | 119.27€ | 90min |
| ANNABELLE, Paphos | 119.27€ | 90min |
| ANASSA, Polis | 119.27€ | 120min |
| HELIOS BAY, Paphos | 119.27€ | 90min |
| AGAPINOR, Paphos | 119.27€ | 90min |
| LOUIS IMPERIAL BEACH, Paphos | 119.27€ | 90min |
| LOUIS LEDRA BEACH, Paphos | 119.27€ | 90min |
| APHRODITE HILLS, Paphos | 119.27€ | 80min |
| PIONEER, Paphos | 119.27€ | 85min |