RESERVATION FORM: 1) Choose destination, date and time. 2) Select vehicle. 3) Fill address and passengers information.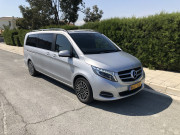 Minivan from Larnaca Airport to Protaras, Pernera, Kapparis, Paralimni
Transfer includes meeting at Larnaca Airport and transport up to 6 passengers. Prices include free child seats and water for all passengers, all airport taxes and travel related to the transfer. Our company can help you 24/7 allways with Airport transfer from/to Protaras. Transfer time Larnaca Airport-Protaras is arround 55 minutes with distance approximately 55 km. Taxi vehicle is equipped with boothled water for all passengers and strong WI-FI for all customers. Drivers speak your language well. Cars is new and big, with space for many suitcasses. Minivan Larnaca Airport Transfer from/to Protaras will cost 69.74€ (one way). On the way back we offer all trips with discount 10%.
▶No hidden fees
▶Free child seat
▶Paid road charges and parking
▶24-hour reception
▶Insurance of passangers
▶All prices include VAT
▶Help for

your luggage

▶Free water for all passengers
▶Payment online or cash
▶Wi-fi
Protaras (Greek: Πρωταράς) is a predominantly tourist resort which comes under the administrative jurisdiction of Paralimni Municipality in Cyprus. In ancient times, where Protaras is now located, stood the old city-state of Leukolla. The city possessed a small safe harbour where Demetrius Poliorketes sought refuge in the year 306 BC, lying in wait for Ptolemy, one of the successors of Alexander the Great. In the ensuing battle, Ptolemy was defeated and fled to Egypt, leaving Cyprus in the hands of Demetrius for a short time. Protaras is also referred to as "the land of windmills", maintaining the nostalgic quality of the past.
Protaras has clear sky-blue waters and sandy beaches, the most well-known of which is Fig Tree Bay. Building on the success of Ayia Napa, located about 10 km (6 mi) southwest, it has expanded into a modern holiday resort of considerable size with tens of high capacity hotels, hotel apartments, villas, restaurants, pubs and associated facilities. Being quieter than Ayia Napa and having less of a club scene, it has a reputation of catering more for family and Cypriot tourism. Cape Greco is a 10-minute drive from the center of Protaras.
Protaras is a diving destination. Green Bay is the most popular dive site and has statues placed underwater for the thousands of first timers to enjoy while trying their scuba skills. The Blue Hole, the Chapel, the Decosta Bay, Malama bay. Protaras most famous dive site for Technical Diving and Commercial Diver training is the Cyclops bay located on the border with Ayia Napa. Source: wikipedia.org
How much is a transfer from Larnaca Airport to Protaras?
| | | |
| --- | --- | --- |
| KAPETANIOS, Protaras | 69.74€ | 50min |
| THE IVY MARE, Protaras | 69.74€ | 50min |
| SWEET MEMORIES, Protaras | 69.74€ | 50min |
| CAPO BAY, Protaras | 69.74€ | 50min |
| CAVO MARIS, Protaras | 69.74€ | 50min |
| ODESSA, Protaras | 69.74€ | 50min |
| EVALENA, Protaras | 69.74€ | 50min |
| KOKINES, Protaras | 69.74€ | 50min |
| VANGELIS, Protaras | 69.74€ | 50min |
| PERNERA, Protaras | 69.74€ | 50min |
| GOLDEN COAST, Protaras | 69.74€ | 50min |
| CRYSTAL SPRINGS, Protaras | 69.74€ | 50min |
| WINDMILS, Protaras | 69.74€ | 50min |
| MARLITA, Protaras | 69.74€ | 50min |
| VRISSIANA, Protaras | 69.74€ | 50min |
| GRECIAN PARK, Protaras | 69.74€ | 50min |
| PARAMOUNT, Protaras | 69.74€ | 50min |